The British School of Monaco is Opening in autumn 2022
We are pleased to announce the British School of Monaco will open its doors in autumn 2022!
The British School of Monaco is an ambitious institution with, at its heart, a keen desire to serve the Monaco community. Our vision is to "create an exceptional educational environment in which students are nurtured to become authentic individuals and reflective, resilient and adaptive learners. Our teachers are dedicated to the pursuit of excellence, innovative teaching, and helping students reach their full potential".
Our Core values, the ones we seek to instil in our students on a daily basis are at the heart of everything we do:
To oneself: Integrity & Responsibility
To others: Respect & Kindness
To the world: Courage and Curiosity
Follow us on
Do you share our passion for learning? Do you share our core values? Do you want to make a difference in the lives of the young people in Monaco? Please send your CV with a one page covering letter to [email protected]
From time to time we will post advertised roles on this page. Alternatively, we use the TES to advertise academic roles.
Keep checking this page to stay in touch with current opportunities.
See available positions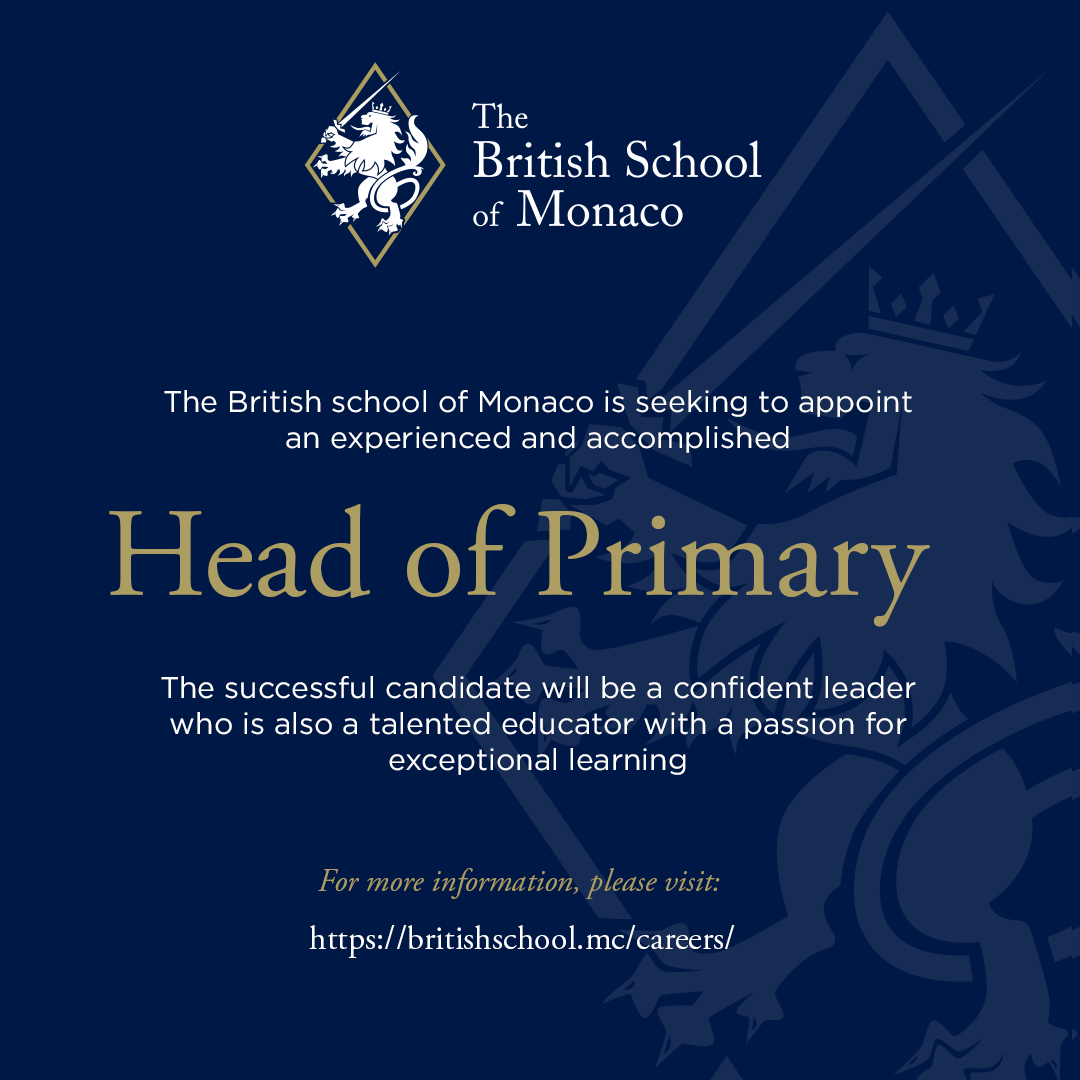 Head of Primary
This new and exciting role is the opportunity of a lifetime to lead the primary school at the British School of Monaco from inception. We seek an enthusiastic, energetic, and ambitious Head of Primary who is committed to the highest standards and who can demonstrate leadership and management skills compatible with our school's vision, mission and values.
The Head of Primary will be responsible for managing all staff, curriculum content and assessment in the primary school. The successful candidate will have a deep understanding of contemporary pedagogies and will be confident to lead the quality of learning and teaching in the school. The post also involves a teaching element.
To be successfully appointed to this career defining role, the ideal candidate must have the following key competencies:
The ability to secure exceptional standards of learning and teaching, leading and promoting outstanding learning and teaching on a day-to-day basis
Be able to work effectively with the school directors, helping to promote and embed the school's mission and vision
Be able to balance their operational and strategic responsibilities on a day-to-day basis, ensuring exceptional outcomes
Be an accomplished communicator and able to forge excellent relationships with all stakeholders, parents, staff and students
To apply, please send a covering letter of no more than 2 pages and an up-to-date CV to Mr Luke Sullivan, Director, at [email protected].